12th Step Work Through RBI

RBI Twelfth Step Work
Participating in a twelfth step commitment to carry the message of Alcoholics Anonymous is a fantastic way to pass on the hope and freedom that is available to those who give themselves to this simple program of recovery.
"Nothing will so much insure immunity from drinking as intense work other alcoholics". (from pg. 89 in the AA Big Book ©)
Check out the new Hotline tear off forms! There are now 4 different color schemes to choose from.
Click on the image for a full size form to print.
We have begun to take in-person meetings into the Berks County Prison! Look for updates on the home page and here for more additional info. 
Men's & Women's application forms can be printed here and emailed or sent thru the USPS as part of the Berks County Jail System screening process.  Click on the graphic to access the appropriate one. Instructions on how/where to submit them is on each form. 
Please Note: Both a completed PREA form & proper BCP form must be sent to the appropriate chair person to start the approval process. Once approved, each applicant must attend orientation training and receive a picture ID in order to attend these in person commitments.
Current Intergroup Institutional Commitments
PLEASE NOTE: To participate in the discussion at ALL of these commitments requires 1 year of
continuous sobriety AND to have completed ALL 12 steps with a sponsor.
For specific details about each commitment, click on the appropriate button below

Claire of Asissi


Haven Wednesday


Haven Friday


Teen Challenge Men


Teen Challenge Women


Wernersville

These are the next month's current twelfth step commitments for November 2023. For more details, or to answer questions regarding them, please contact the Institutions Chairperson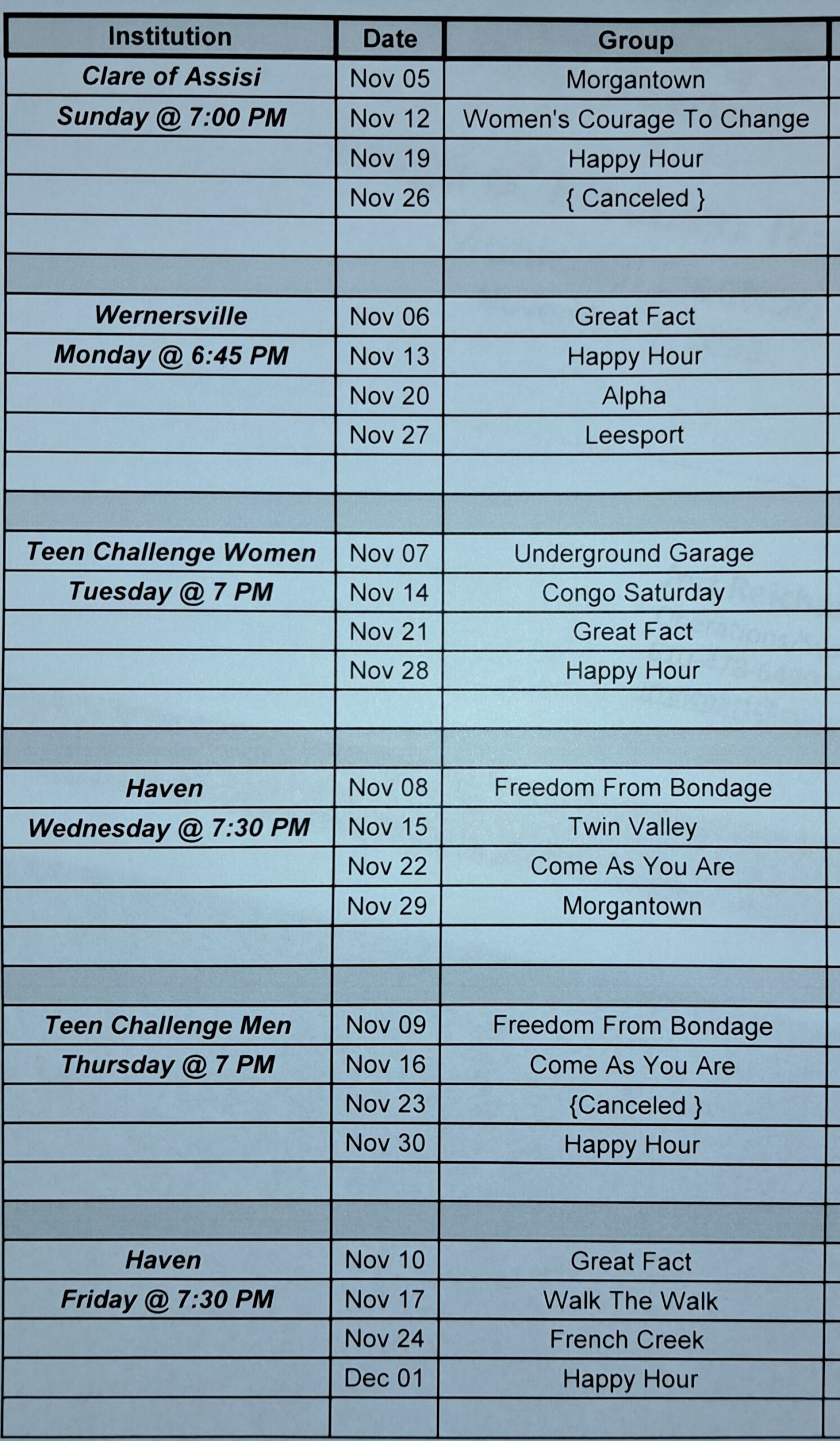 These are the current twelfth step commitments for December 2023. For more details, or to answer questions regarding them, please contact the Institutions Chairperson